So I clearly didn't get around to writing that weekend recap post late on Monday, or a post any other day this week, but I promise I have a good reason! I extended my trip to Oxford, and then I extended it again, and again, until my mother forced me to return to the real world yesterday and drive home. So what exactly was I up to in the best small town in America for the past week?
I'm changing things around and linking up with
Lauren Elizabeth
today!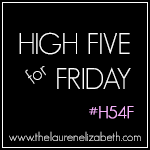 Friday we went out to my very favorite bar, Funky's! It's a daiquiri bar on the square that also sells delicious pizza. My favorite thing at this bar (other than their occasional Oldies Night) is the Skinny Bitch, it's a pink lemonade flavored daiquiri that is so so delicious! I've seriously been craving these so this might have been the highlight of my whole trip.
2. Recruitment #ThinkTheta
If you looked at my
Instagram
this morning you may think I was in living in a Lilly Pulitzer photo shoot, but really I was just at the Kite Palace (AKA my sorority house). So originally I was going to come home before Recruitment began, but then I went to one practice and realized how much I miss my sisters and knew I had to stay for the first couple of days. We had so many fantastic moms and alums who came back to help out in the kitchen. I can't wait until I get to be a Theta mom in (hopefully) about 25 years
I could seriously have written and entire post about the food I consumed in the past week. I clearly decided that calories didn't exist this week because I was eating like I'd never eat again. These are some of my favorite things I ate.
My second plate from Sunday Brunch, that banana foster's french toast was seriously delicious!
Veggie Spring Rolls that I helped make for an after Recruitment snack
My lunch plate from my brother/sister lunch date on Saturday
4. Mississippi
I can't remember if I've mentioned it before, but to get to Oxford I have to drive through essentially the entire state. Luckily my very long drive comes with beautiful, peaceful rural scenery. I was so thankful to have fantastic weather for both my drive up and down. Unfortunately this weather isn't supposed to last as we're expecting Tropical Storm Karen this weekend. I can't even talk about how wrong it is that we're talking about a tropical storm in October.
This was one of the rush songs this year so it's been playing over and over again in my head all week. I can't wait to see all the fabulous new members we "win" on Bid Day.


All we do is win, win, win, no matter what. Got Theta on our minds, we can never get enough. And every time I step up on the campus I just wanna throw my kite up. Throw the Kite up. Throw the Kite up. Throw the Kite up.